2011 Participants
Ashley Benninghoff
Ashley Benninghoff is a dancer, choreographer, and teacher, currently living in Indianapolis.She began her dance training at The Fort Wayne Ballet and continued on to Southern Methodist University where she received a BFA in Dance Performance. While at SMU she danced in works by Martha Graham, Robert Battle, and Max Stone. She also choreographed a full-length dance show entitled Sides, and was a nominee for the prestigious M Award. She then moved to New York City, where she furthered her dance training at Dance New Amsterdam and Steps on Broadway, before moving back to Indiana.While in Indianapolis she was a member of the (Re) Collective Company and is currently dancing with Motus Dance Theatre. Ms. Benninghoff taught and choreographed for the Lawrence Central High School Dance Program, and is a teacher at The Dance Refinery.There she teaches ages four to eighteen and has choreographed award winning pieces for their Regional and National competitions. Ashley has also participated in the Indy Convergence for the past five years, further developing her voice as a choreographer.
Ellen Denham
Ellen Denham is a soprano, voice teacher, writer and stage director currently pursuing a doctorate in Vocal Performance and Literature at the University of Illinois, where she studies with Cynthia Haymon-Coleman. A native of Winston-Salem, NC, Denham received her B.M. from the University of North Carolina School of the Arts and M.M. from the New England Conservatory of Music. Prior to returning for doctoral studies, she taught voice at Earlham College, in the music magnet program of Broad Ripple High School, and operated a private voice studio in Indianapolis. Denham is a graduate of the Odyssey Writing Workshop and has had short fiction published in numerous magazines Combining her work in writing with her performing background, she has written several works for the stage, including the libretto for Butler Ballet's critically acclaimed production of The Willow Maiden, using her original story with an original score by Frank Felice. Her other works for the stage include a one-act chamber opera, Peter, Peter Pumpkin Eater, for which she wrote the libretto and co-composed the music with composer Meredith Gilna, a comic sketch for two actors and one soprano, The Singing Dog, and a short musically improvised opera, Homo Homarus. Denham has directed these works at the Indy Convergence in addition to a comic soundscape based on internet memes. In 2013, she was invited to direct the Umbrella Project of the Indy Convergence, an exploration of the subject of Otherness based on her concepts and created collaboratively by the performers using dialogue, dance, and an improvised soundscape of voices and instruments. She has received two grants from the Indiana Arts Commission for her collaborative work.
Christina Feinberg
Christina is an actor, a puppeteer, an aerialist, a physical theatre artist and a teacher. She works at the Skirball Cultural Center as a storyteller, puppeteer and educator for School Programs. She is passionate about arts education and that tends to be the umbrella that all of her talents fall under. Sharing puppetry, theatre and movement with students is a priceless experience. "I don't think I could be an artist without being a teacher, and I don't think I could be a teacher without being an artist."
Erica Rose Jeffrey
Zach Laliberte
Zach is a multi-faceted artist living in the sunny city of Los Angeles. He was born and raised in Chattanooga, TN, where he attended a performing arts high school before making his venture north to Chicago. He earned his Bachelors degree in theatre at Columbia College Chicago in 2003. In the years since, he has gone on a national clown tour, attended the International Festival of Alternative and New Theatre (INFANT) in Novi Sad Serbia, and worked to create the Tonkawa Theatre Tribe (TTT) and The Chicago Physical Theatre Institute (CPTI). He released an independently produced live album, Skeletons of Songs, in 2007, with the help of his good friend, filmmaker Joe Burke. Zach has made many friends around the world studying under Keith Johnstone at the Loose Moose Theater Co. in Calgary, performing at the Sydney Opera House in Sydney, Australia, and collaborating with some of his favorite artists in Chicago such as the Neo-Futurists and Kapoot Clown Theater. Mr. Zach also worked as an artist-in-residence in collaboration with The Vittum Theater teaching Art, Music, Theatre, and Improvisation in Chicago public schools. He also is an artist-in-residence for the Atlanta Workshop Players every summer, teaching Mask, Clown, Breakdancing, Physical Theatre, and the Art of Play. Since moving to L.A., Zach has co-founded the Los Angeles Center for Creative Arts with filmmaker Lysandra Petersson, with whom he also produced the bimonthly live performance event Art Bazaar. In 2010, he released the music video for "Daydream" (Skeletons of Songs), and music videos for two more songs are on the way in 2011. He has performed his music at the Viper Room, House of Blues, Rainbow Room, and many more venues.
Joshua Morris
Joshua Morris is from Louisville, Kentucky. An Oberlin alum, he studied composition with Dr. Randolph Coleman and Dr. Lewis Nielson, and at Butler University studied with Michael Schelle. His compositions are often intermingled with other disciplines to make music that must be seen and dance that must be heard. His work has been performed in several nations by numerous ensembles, from the Nouvelle Ensemble Musique in Canada to the Oberlin Orchestra to an Irish folk group in Dublin. He is a founding member of Ensemble 48, a contemporary music ensemble based in Indianapolis. He has also performed with the Rebellious Subjects Shakespeare. He has received numerous awards and honors, including membership with the Honorable Order of Kentucky Colonels.
Gabriel Pallo
Jamie Elise Patton
Melanie Schreiber
Danielle Steele
Michael Velez
Michael Velez, studying experimental theater and performance art, joined the San Diego dance scene as an apprentice for Gina Angelique's Eveoke Dance and Sledgehammer Theater. He attended the Coronado School for the Arts while juggling performances with the San Diego Junior Theater. Michael has worked most notably and closely with two dance companies in Philadelphia- four seasons with the Koresh Dance Company and since 2003 with Charles O.
Anderson's "dance theatre X" on a project-by-project basis. Both of which, he's had the opportunity of placing choreography onto. After attending the University of the Arts, he continued to learn, inspire and dance for such widely recognized choreographers as Robert Battle, Zane Booker, Brian Sanders, Donald Byrd, and Itzik Galili (of the Netherlands Dance theater and Galili Dance).
Michael's choreography and Modern Funk dance style has recently gained ample recognition in the 2008 National Ice dance Competition televised by CNN, where Kim Navarro and Brent Bommentre placed 3rd for their division, qualifying them for the 2008 Olympics.
Roberta Wong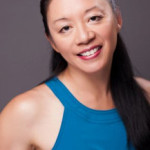 Roberta is a two-time Creative Renewal fellow and IAC grant recipient, has enjoyed careers in ballet, modern dance, choreography and teaching. Her professional career began with the Boston Ballet and Indianapolis Ballet Theatre. She completed a biology degree at Butler University before joining Dance Kaleidoscope and one of her greatest mentors, David Hochoy. Other performing credits include Yuletide Celebration with the Indianapolis Symphony Orchestra, Weird Al Yankovich's Poodle Hat Tour (Indianapolis performance) and Bill and Gloria Gaither's Praise Gathering. She was honored in Indianapolis Woman magazine (Nov. 2000) and is currently faculty at Butler University, Indiana University, Indianapolis School of Ballet, Stage I Dance Academy and the USA Diving national training center. She is a founding member of the Dance For Parkinsons Indianapolis program. She has been honored to teach for the Indiana Dance Festival, Lafayette Ballet and Mid-States Regional Dance Festival. She is grateful to have choreographed for Anderson University's Candles and Carols, the Emily Hunt benefit for spinal chord research, Pike High School and Indy Convergence, from where her work was presented at the Harvest Chicago Contemporary Dance Festival. She is a published dance photographer and ashtanga enthusiast.She completed a biology degree at Butler University before joining Dance Kaleidoscope and one of her greatest mentors, David Hochoy.