Puppets: Haiti DAY 18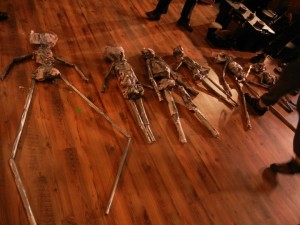 In the last few days our work and ideas have really come to life at Saka-La-Ka-Wel. Not only is it a school for music, but will house a restaurant, modest hotel and public courtyard. People are beginning to see S.K.L.W. as resource in the community for everything from art classes to coordinating taxi service and even forming a new soccer team.
Recently we've started making puppets with the kids who take our kenpo classes. They bring recycling to pay for class and after kenpo we use it to create art projects and puppets from newspaper and duct tape (Thanks Christina Aimerito for showing us how last Convergence). The puppets are a huge hit and we're looking forward to making some more tonight.
Since Gabe and I arrived we've made good connections and been working with two visual artists and three musicians. They'll be joining us in April for Indy Convegence-Haiti and are very excited to meet everyone else.