Artist Profile: Lee Rainboth
Meet Lee
Lee is one of the wonderful people we've met while working in Haiti over the last year. He's now one of our board members and joining us as an IC participant for this first time this May. He runs an organization called Living Media International and is an accomplished visual artist. Welcome to IC, Lee!
What will you be working on at IC this year?
I will be creating some visual art to be included as part of the set design,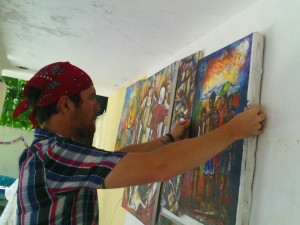 converting the concepts of otherness into an interactive art installation that will be part of the performance.
What attracted to you Indy Convergence?
I first learned about IC by experiencing their annual convergence in Haiti last year and was attracted to their work because of the encouragement for experimentation and exploration in different disciplines.  The creative environment that grows out of that collaboration between artists makes for an energy that is exciting for any artist to be a part of.  It also provides each artist with other methods of communicating their concepts that they wouldn't be able to achieve on their own.  What's not to love about that?
Where are you from and what is your artistic background?
I'm originally from Marcus, Iowa and studied studio arts with a focus in painting at Iowa State University.  I have worked as an artist in the nonprofit sector in the Midwest, Mali, Uganda, and now in Haiti where I have lived for the last 6 years.  My background is primarily in painting but I have also worked as a photographer, writer, and musician.
Anything else you would like to add about IC 2013?
I am really looking forward to the chance to work with the other artists and learn from them at IC 2013.  One of the things that I'm most excited about is the fact that I really don't think I know what I'm getting into yet and anticipate a lot of things to develop and be discovered once I get there.  I've started learning some about the other artists that will be there through the postings online but you never know what's going to happen once you get all those artists together in one place until it happens.  A little terrifying, but also inspiring to know that I get to be a part of something like that.