Indy Convergence @ Indy Fringe
We're taking anther big step this summer and producing our first show with Pantea Productions at the Indy and Philly Fringe Festivals. We're thrilled to work with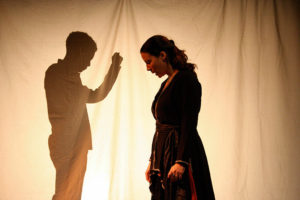 IC alumnus Leila Ghaznavi on her award winning show Silken Veils at both festivals. First produced in 2011, Leila is revamping some set pieces and incorporating our very own Robert Negron into the cast. We're thrilled to take on this new challenge with Pantea Productions and think it will be the first of many future collaborations.
See us on the Phoenix Main Stage on these dates:
Friday August 19 @ 9PM
Saturday August 20 @ 3PM
Sunday August 21 @ 6PM
Tuesday August 23 @ 6PM
Thursday August 25 @ 7:30PM
Saturday August 27 @ 10:30PM
What's the show about?
In this one hour play, Darya, an Iranian émigré, abandons her groom at the altar and locks herself in a closet. While he demands to know what's going on, Darya has flashbacks to her turbulent childhood during the Iranian Revolution and the Iran-Iraq war. Combining Rumi poetry, puppetry, animation, original text, with music by Hamed Nikpay and Houman Pourmehdi, SILKEN VEILS is sure to captivate the senses when love, tragedy, and humor collide as Darya questions: Is love worth the risk?
Reviewer Angus Longhurst wrote, "Ghaznavi has crafted a beautiful production, but one which also has a serious message as a political play. A passionate exploration of a nation and a people with a turbulent past and an uncertain future." It's a show we don't want you to miss, so check back soon for specific dates and times for our performances in each city.